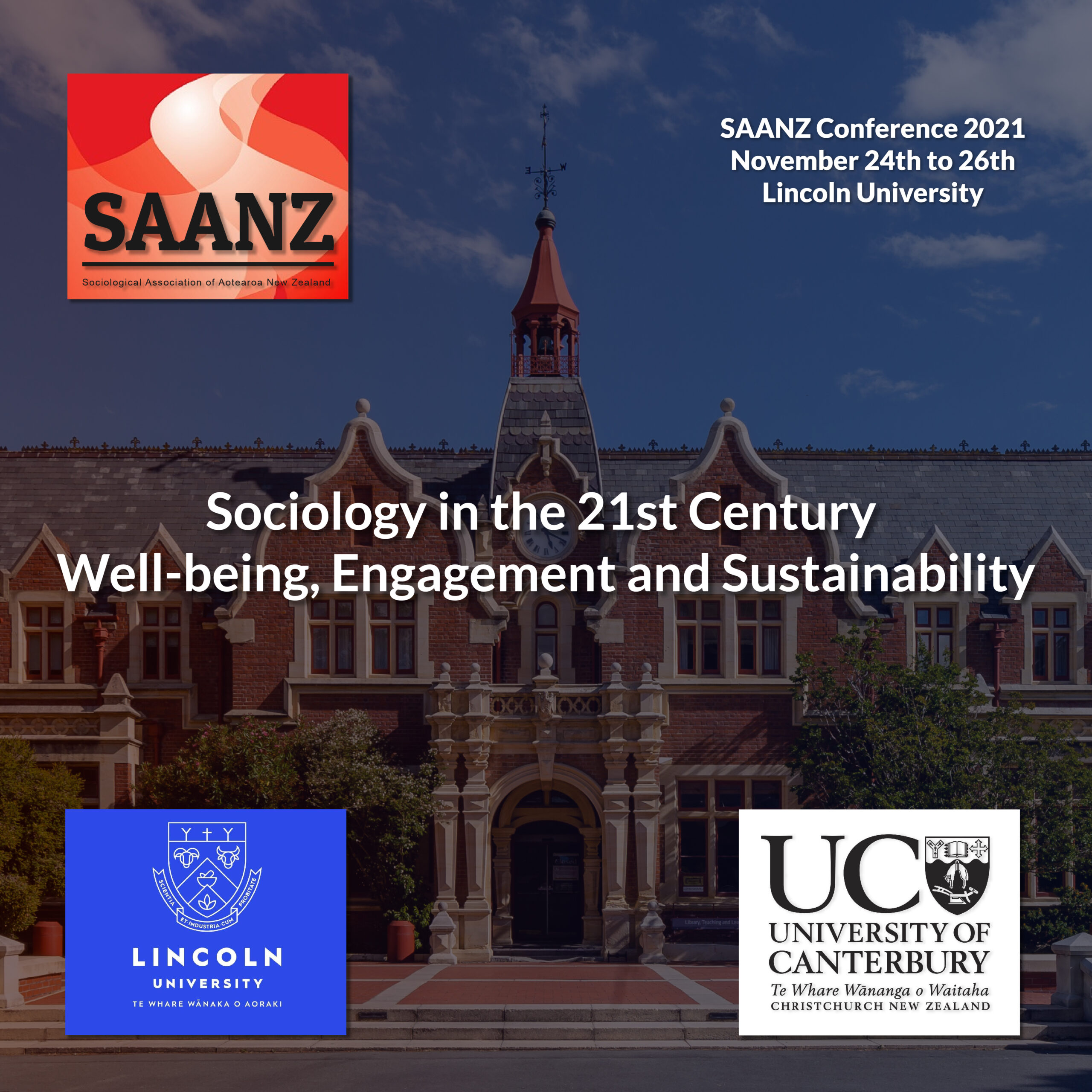 Welcome to Lincoln, Canterbury, for the 2021 Sociological Association of Aotearoa New Zealand Conference:
"Sociology in the 21st Century: Well-being, Engagement and Sustainability"
Lincoln University's Faculty of Environment, Society and Design, and the University of Canterbury's School of Language, Social and Political Science are delighted to welcome you to the 2021 SAANZ conference. Given it has been a long time since we were able to gather face-to-face, we are particularly excited about the opportunity to bring together sociologists across the country to showcase their work.
The theme of the conference is "Sociology in the 21st Century: Well-being, Engagement and Sustainability". This reflects what has become important to many of us since COVID, as we realised the significance of engaging with one another and looking after ourselves and the planet. The conference features two keynote speakers who embody these ideals through both their leadership and their research.
Dr Stefanie Rixecker is the current CEO of Environment Canterbury, and formerly Deputy Vice-Chancellor and an academic staff member in the area of Public Policy and Administration at Lincoln University.  Her research has focused upon the intersection of environmental policy and social justice, including in the areas of future and near-future technologies, climate change and climate justice, marine environments, the geopolitics of energy and gender. She has undertaken projects for community groups, NGOs, UNEP and multiple national and regional organisations, and was awarded one of Amnesty International's most prestigious accolades, the Dove Award, in 2010 for her work as Board Chair of Amnesty International NZ.
Bronwyn Hayward (MNZM) is a Professor in the Department of Political Science and International Relations and Director of The Sustainable Citizenship and Civic Imagination Research group at the University of Canterbury. Her research focuses on the intersection of sustainable development, youth, climate change and citizenship. Bronwyn is a Coordinating Lead Author for the Intergovernmental Panel on Climate Change (IPCC) AR6 report (Cities, Settlements and Key Infrastructure) and was a lead author for the 2018 IPCC Special Report on Global Warming of 1.5o (Sustainable Development, Poverty Eradication and Reducing Inequalities). She is co-primary investigator with University of Surrey's ESRC funded Centre for Understanding Sustainable Prosperity, and leads the CYCLES Children and Youth in Cities Lifestyle Evaluation Study in seven cities around the world.
While this is the overarching theme of the conference, you are welcome to contribute work across a variety of other areas – please see the Call for Abstracts section below for details.
Registration
Registrations open: Friday 11 June 2021
Early Bird Registrations close: Tuesday 14 September  Extended to Thursday September 30 2021
Standard Registration rates apply from: October 1 2021
Registrations close: Friday 5 November 2021
Delegates whose abstract has been accepted but who have not paid their registration fee by 5 November 2021 will be removed from conference programme.
Please note: SAANZ2021 is an in-person conference with no online components. 
Registration is Now Closed
SAANZ member registration fees*
Early Bird Full Registration                                   $150
Standard Full Registration                                    $175
Student**                                                                $80
Early Bird Day Rate                                                $60
Standard Day Rate                                                 $65
Not a SAANZ member? Join Here.
Non-SAANZ member registration fees*
Early Bird Full Registration                                   $175
Standard Full Registration                                    $210
Student**                                                                 $90
Early Bird Day Rate                                                 $70
Standard Day Rate                                                  $75
Conference dinner (additional cost)                    $80 (includes one free drink)
* Please note that lunch is not provided as part of your conference registration fee, but there are well-priced facilities on campus near the conference venue and within 10-15 minutes' walk from campus in Lincoln township.
**Postgraduate workshop is included in all student registration fees, but for catering purposes please indicate whether you will be attending when you register. 
Call for Abstracts
Information about the submission process and due dates for abstracts can be found below. Presentations will be allotted 15 minutes in the conference session, plus 5 minutes for questions.
Please note: SAANZ2021 is an in-person conference with no online components. At least one author must attend to present.
Abstract Submission is Now Closed
Abstracts can be on any sociology-related topic, with the below list only comprising suggestions:
Ageing
Crime and Governance
Critical Disability
Death and Dying
Digital Media
Disaster Sociology
Education
Emotions and Affect
Environment and Sustainability
Families and Relationality
Food or Agriculture
Gender and Sexualities
Health
Human/Animal Relations
Media and Popular Culture
Racism and Ethnicity
Research Methods
Rural Sociology
Religion
Science and Technology Studies (STS)
Social Movements and Activism
Social or Environmental Policy
Social Theory
Social Work
Sport, Leisure or Tourism
The City/Urban life
Please format your abstracts as follows:
Length: 200 words.
Title font: Times New Roman, bold, size 16, centred, followed by a line space.
Author/s Name: Times New Roman, bold, size 12, centred.
Author/s Affiliation/s: Times New Roman, bold, size 12, centred.
Author/s email address/es: Times New Roman, bold, size 12, centred.
Abstract Submission is Now Closed
Presenters with accepted abstracts are required to complete their online registration and pay their conference fees in full by 5 November 2021 to ensure their papers remain in the conference programme.
Conference Programme & Proceedings
The programme for SAANZ2021 is now available and can be accessed through Sched here.
You can download the full conference proceedings here. 
Please note: all who registered for SAANZ2021 have been invited to register with the Sched programme and manage their own schedule. There will be no printed programmes. If you are registered and did not receive your invite, please contact online@saanz.net.
Accommodation & Getting There
Getting to Lincoln University
Our campus sits in the Lincoln township, a friendly and thriving village with a population of around 4000, in the heart of Canterbury. It has cafes and pubs, as well as a supermarket and other shops and services. Lincoln is approximately 25 minutes drive from Christchurch Airport and from Riccarton.
Buses
Lincoln University is at the terminus of the number 80 Parklands/Lincoln bus route which passes through the Bus Interchange in the centre of Christchurch city.
Shuttle services
If you are arriving at Christchurch Airport and need assistance travelling to Lincoln University there are local shuttle services available. NZ Look Shuttles operate between Christchurch and Selwyn, where Lincoln is located. Costs and online bookings are available on the NZLookShuttles website.
Parking on campus
Parking is free on Lincoln University campus. The most convenient carpark for the conference is the Orchard Carpark, which can be entered through Gate 3 off Springs Road.
Accommodation
The first two accommodation options below are in Lincoln township itself, and the remainder are on/near the bus route in order of proximity to Lincoln University:
Lincoln Motel (6 Maurice St, Lincoln) – prices from $150 per night (studio unit) to $265 per night (2 bedroom unit)
Famous Grouse Hotel (2 Gerald St, Lincoln) – superior king room prices $130 per night (single) or $150 per night (double)
Alpha Motel (338 Blenheim Rd, Upper Riccarton) – price from $130 for standard studio price to $280 for three bedroom penthouse
Amber Kiwi Holiday Park (308 Blenheim Rd, Upper Riccarton) – prices from $90 (ensuite tourist cabin that sleeps 3 people in a single bed and a set of single bunk beds) through to $160 (two bedroom motel unit that sleeps up to 5) and $215 (house apartment sleeping up to 6 people)
Fyffe on Riccarton (208-210 Riccarton Rd, Christchurch) – $155 per night for a studio unit, with two bedroom units from $200 per night
Metropolitan Motel (175 Riccarton Rd, Christchurch) – executive studio units from $145 per night (for 2 night stays) up to $245 for 2 nights in a two bedroom townhouse
Argyle on the Park Motel (145 Deans Ave, Christchurch) – prices range from $112.50 for a king studio to $130.50 for a family suite
YHA Backpackers (36 Hereford St, Christchurch) – beds in dorm rooms from $33 per person, double/twin ensuite rooms from $117
There are, of course, also AirBnB and BookaBach options available.
All prices were checked for conference dates and were correct at time of posting, and while all care was taken the conference organisers do make any claims as to quality or availability, nor do they accept responsibility for updated pricing.