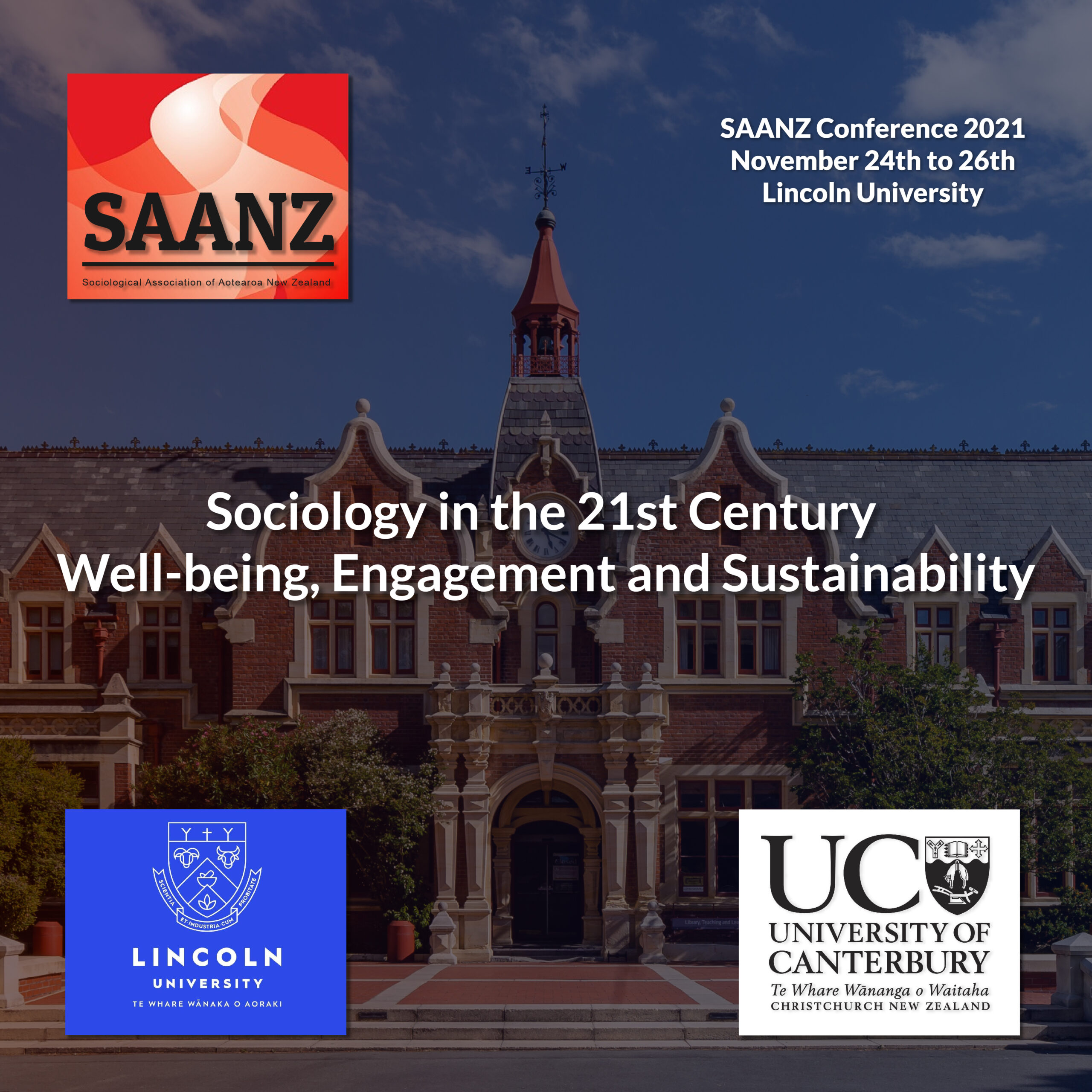 Welcome to Lincoln, Canterbury, for the 2021 Sociological Association of Aotearoa New Zealand Conference:
"Sociology in the 21st Century: Well-being, Engagement and Sustainability"
Lincoln University's Faculty of Environment, Society and Design, and the University of Canterbury's School of Language, Social and Political Science are delighted to welcome you to the 2021 SAANZ conference. Given it has been a long time since we were able to gather face-to-face, we are particularly excited about the opportunity to bring together sociologists across the country to showcase their work.
The theme of the conference is "Sociology in the 21st Century: Well-being, Engagement and Sustainability". This reflects what has become important to many of us since COVID, as we realised the significance of engaging with one another and looking after ourselves and the planet. The conference features two keynote speakers who embody these ideals through both their leadership and their research.
Dr Stefanie Rixecker is the current CEO of Environment Canterbury, and formerly Deputy Vice-Chancellor and an academic staff member in the area of Public Policy and Administration at Lincoln University.  Her research has focused upon the intersection of environmental policy and social justice, including in the areas of future and near-future technologies, climate change and climate justice, marine environments, the geopolitics of energy and gender. She has undertaken projects for community groups, NGOs, UNEP and multiple national and regional organisations, and was awarded one of Amnesty International's most prestigious accolades, the Dove Award, in 2010 for her work as Board Chair of Amnesty International NZ.
Bronwyn Hayward (MNZM) is a Professor in the Department of Political Science and International Relations and Director of The Sustainable Citizenship and Civic Imagination Research group at the University of Canterbury. Her research focuses on the intersection of sustainable development, youth, climate change and citizenship. Bronwyn is a Coordinating Lead Author for the Intergovernmental Panel on Climate Change (IPCC) AR6 report (Cities, Settlements and Key Infrastructure) and was a lead author for the 2018 IPCC Special Report on Global Warming of 1.5o (Sustainable Development, Poverty Eradication and Reducing Inequalities). She is co-primary investigator with University of Surrey's ESRC funded Centre for Understanding Sustainable Prosperity, and leads the CYCLES Children and Youth in Cities Lifestyle Evaluation Study in seven cities around the world.
While this is the overarching theme of the conference, you are welcome to contribute work across a variety of other areas – please see the Call for Abstracts section below for details.