Now What? 
Reimagining hope, 'truth' and equality
Registration is Now Open
The conference theme calls on conference participants to consider Now What? for the imagined and enacted praxes of hope, 'truth' and equality – now and in the immediate future. Now What? for contemporary and future-facing Sociology(ies). And Now What? for the next crises – material, physical, social, digital, etc – that lie just over the horizon and are yet to capture the public's imagination, let alone threshold sociological interest.
These questions are asked with urgency as individuals and institutions around the globe lurch through the immediacies of current crises, most notably the Covid pandemic and the Russian invasion of Ukraine – while at the same time they are routinely called upon to navigate the more persistent crises of late capitalism, such as tipping point climate change, 'sacrifice zones' of global pollution and ever present life-quality/ life-chance discriminations. Indeed, within this crisis inundated milieu various intersecting social fissures and inequities (e.g. economic, ethnic, residential, age, gendered, etc) are rendered ever more pronounced, just as the precarious nature of fair-weather, incremental progress is alarmingly highlighted by the resurgence of neo-liberal economic essentialism, xenophobic and morally conservative popularisms, and the reactionary misdirections of conspiracy theorists and the 'collaterally damaged' (Bauman 2007). And through all of this, individuals and institutions are stickily embroiled within an evolving morass of competing 'truth claims' – scientific, political and sociological – which they both generate and reflexively engage with differently privileged or disadvantaged measures of resilience, hope and despair (Connell 2020; Matthewman & Huppatz 2020; Robbie & Krishnamurthi 2020; Ward 2020).
So Now What? for sociological theorising, analyses and research initiatives – responsive, innovative and aspirational – within and outside academia. Now What? for constructive and ameliorating social policies. Now What? for social activism – increscent and radical (Barber & Naepi 2020).
December 6th – 8th




Albany Campus, Massey University

 
Host Sponsor:



Massey University Sociology Programme
Important Dates

Keynotes & Plenaries
Keynotes
Tuesday Keynote: Professor Tahu Kukutai (University of Waikato)
Wednesday Keynote: Pania Newton and Dr Frances Hancock (SOUL-Ihumātao)
Plenaries
Tuesday Plenary: Reimagining a Post-Crisis (sic) Sociology
Associate Professor Avril Bell
Dr Sereana Naepi
Professor Steve Matthewman
Dr Simon Barber
Wednesday Plenary: Student Plenary: Losing hope, gaining hope: How academia is nothing if it doesn't help generate change
Nicole Ashley
Byron Williams
Hafsa Tameez
Terina Kaire-Gataulu
Thursday Plenary: The sticky arts of science communication in crisis times
Professor Shaun Hendy
Dr Dianne Sika-Paotonu
Professor Kevin Dew
Dr Jin Russell
Registration
Registrations are now open!
Early Bird Registrations close: Sunday, November 6th 2022
Please note:
SAANZ2022 is an in-person conference with no online components

The postgraduate workshop is included in all student registration fees

Delegates whose abstract has been accepted but who have not paid their registration fee by November 6th 2022 will be removed from the conference programme

The SAANZ2022 Conference Dinner will be held at 7 pm on Wednesday, December 7th at Gao in Albany. 80 max.
The organising committee has worked hard to ensure registration fees remain within a similar range to previous SAANZ full conferences, despite increasing costs. Registration fees are as follows: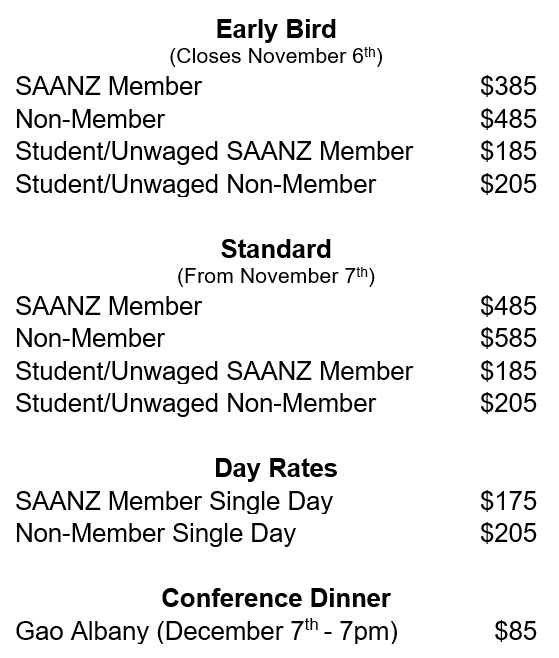 You can 
join here
 if you are not currently a SAANZ member and wish to take advantage of the lower rates.
Call for Panels & Papers
While all calls have closed, after generating the conference streams organisers have several slots open and availability for a few late papers. Please email online@saanz.net if you're interested.
Please note: SAANZ2022 is an in-person conference with no online components. At least one author must attend to present.
Instructions for text abstract submissions can be found here.
Presenters with accepted abstracts are required to complete their online registration and pay their conference fees in full by November 6th to ensure their papers remain in the conference programme.
Call for Panels
The call for panels closed on August 1st. 
Paper presentations will each be 15 minutes with a further 5 minutes for questions.
Panels may take the form of clustered paper presentations, conference streams, roundtables, lightening presentations, workshops, creative presentations such as poetry, song, etc. The minimum time allocated to a panel is 60 minutes and they must include a minimum of three participants (e.g., 3 x 15 minute papers with 5 minutes for questions).
The full call for panels and further information is available here.
Call for Papers
The call for papers closed on October 3rd. 
Ideally papers will address the conference theme. However, papers that address adjacent sociological themes are very welcome also (see below for potential areas of interest). All papers will be reviewed and included at the discretion of the conference organising committee.
The full call for papers and further information is available here.
Panels and papers can be on any sociology-related topic, with the list below only comprising of suggestions:
● Ageing
● Applied Sociology
● City/Urban life
● Crime and Governance
● Critical Disability
● Death and Dying
● Digital Media
● Disaster Sociology
● Education
● Emotions and Affect
● Environment & Sustainability
● Families and Relationality
● Food, Beverages & Agriculture
● Gender and Sexualities
● Health
● Human/Animal Relations
● Media and Popular Culture
● Racism & Ethnicity
● Research Methods
● Rural Sociology
● Religion
● Science & Technology Studies (STS)
● Social Movements & Activism
● Social or Environmental Policy
● Social Theory
● Social Work
● Sport, Leisure or Tourism
Book Launches
Have you recently published a book?  
If you are interested in arranging a book launch event, the SAANZ2022 committee would love to speak to you about organising an event to be held during this year's conference.
If you are interested, please contact Chris McMillian (c.mcmillan@massey.ac.nz) to discuss details.
Conference Programme & Proceedings
The programme for SAANZ2022 is hosted on Sched. All who register for SAANZ2022 will be invited to register with the Sched programme and manage their own schedule. There will be no printed programmes.
A draft of the SAANZ2022 Conference schedule is now available. 
You can view the full schedule on Sched here. You can scroll through all sessions or use the search bar on the right of the screen to search for any name or keyword.
Two PDF versions are also available: a simplified here and a detailed here. 
A full conference proceedings will be available in PDF form closer to the conference. 
Getting There, Facilities & Other Information
SAANZ2022 will be hosted on the Auckland Campus of Massey University. Situated in Albany, the campus is 15kms north of the Auckland Harbour Bridge. 
The conference will primarily be held in the Sir Neil Waters lecture theatres on the East Precinct of the campus. Maps of the campus are available here. 
There are various facilities available on campus (listed here) and a short 15-minute stroll takes you to Westfield Albany or the Albany Village.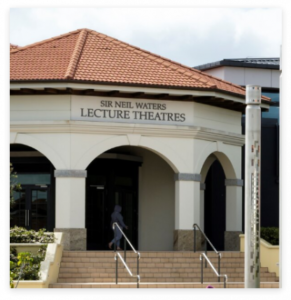 Transport
Public transport in Auckland, the largest metropolitan area of New Zealand, consists of three modes: bus, train and ferry. Services are coordinated by Auckland Transport under the AT Metro brand.
Go here to plan your journey. 
You will need a pre-paid HOP card as cash is not accepted.
Accommodation Options
Other than this try AirBnB; Booking.com; Expedia: et al
COVID-19 Information